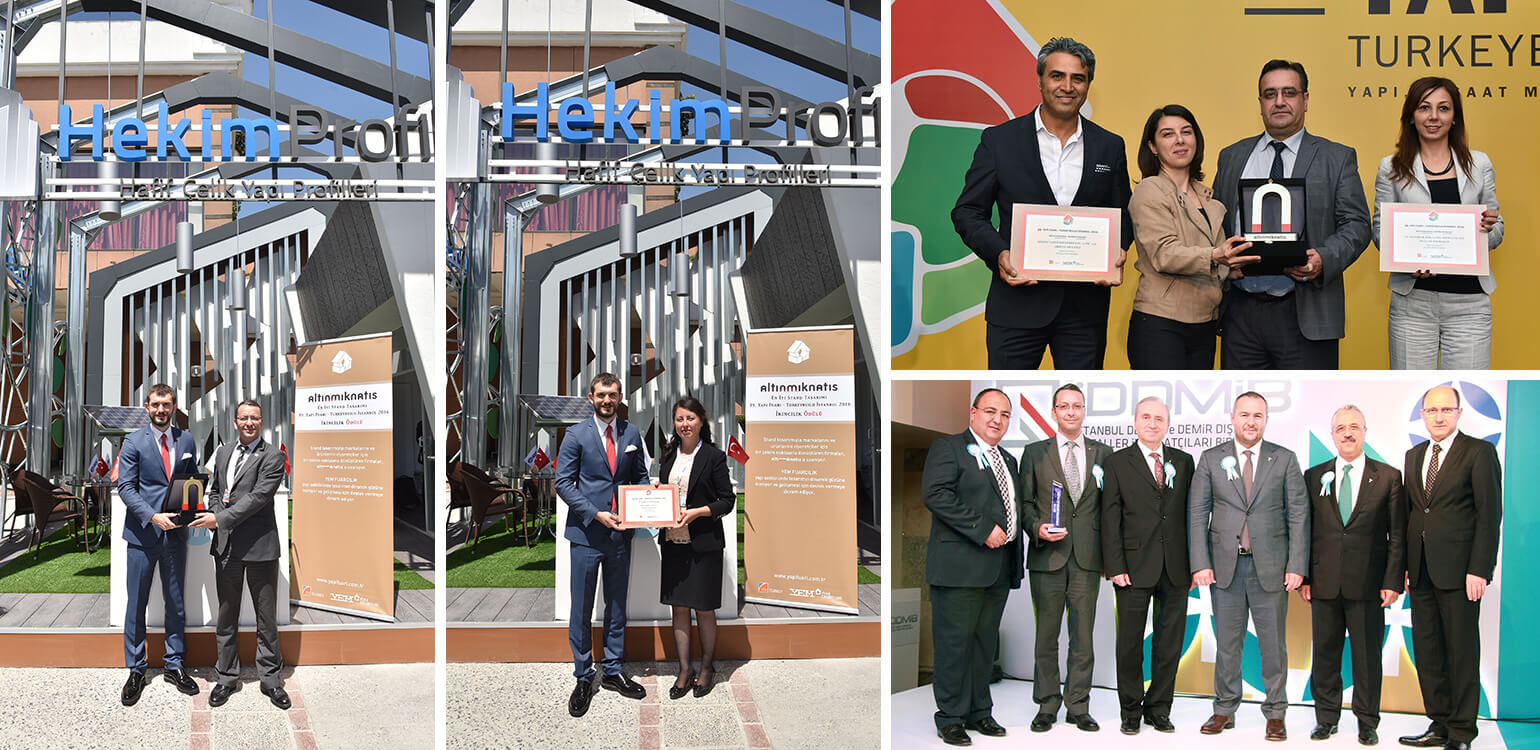 Rewards seems to be incessant for Hekim Holding
25 May 2016
Hekim Holding, ground-breaking leader organization in the Turkish Construction Sector has been awarded three times in one week.
Hekim Holding has been awarded twice for 5 stands installed on a total of 505 square meter area together with its 4 subsidiaries and 2 enterprises at the 39th Construction Fair organized between 10-14 May, and received another prize from İDDMİB (Istanbul Ferrous and Non-Ferrous Metals Exporters' Association).
Prefabrik Yapı A.Ş, an affiliated company of Hekim Holding, has won the third prize among 6.000 members of İDDMİB in the "Metal Goods" category according to 2015 export figures. Assistant General Manager of Prefabrik Yapı A.Ş. Mustafa Tolunay has said in the statement he made, that "The awards we won are the best motivation tools to achieve better targets. We will continue to grow our export figures and targets every year in a multiple manner.
One of the Hekim Holding subsidiary Prefabrik Yapı A.Ş. brand Hekim Profil – Steelin stands together with Hekim Yapı A.Ş stand have shared between them the second prize pertaining to the Golden Magnet "Stand Design Awards" which became a tradition of THE CONSTRUCTION FAIR – TURKEYBUILD.
In the design awards, the jury members, who attach great importance to associating the product with the stand, have cast their votes in favor of Hekim Holding stands. Use of Hekimboard brand products of Hekim Yapı A.Ş. such as Fibercement Natural Cement Boards in all stand designs and constructions, and demonstration of stages of steel profiles as coated and as bare in the Hekim Profile-Steelin stand has brought the second award to both companies. In addition, depicting steel profiles in design as sustainable, ecologic and renewable products and establishing integrity of the tree figure made of profiles with the design were of great interest.
Hekim Yapı A.Ş. stand has been designed by Sıla Uzundurukan, the Architect of the Su Mimarlık, and Hekim Profil-Steelin stand has been designed by Yeliz Uzunyurt, the architect of Prefabrik Yapı A.Ş. Stand of Hekim Profil-Steelin participated in the fair at separate stand as the brands of Prefabrik Yapı A.Ş., for the first time, was the source of pride in name of Hekim Holding. Employees of Hekim Holding, who attach great importance to the design of stands at every fair they have participated, have been well proud of the awards they have won.